Eco
Made with 100% recycled material, the Eco Tee will out-last bamboo by over 10x. The Eco Tee comes in a Traditional Cup or Performance cup in a variety of sizes and colors. The Traditional Cup has the look and feel of a traditional tee but is a much more durable option. The Performance tee's RRT 5-star technology offers a more stable platform without sacrificing performance and designed to last. Custom imprinting and packaging is also available.
Traditional Cup Sizes: 2-1/4", 2-3/4", 3", 3-1/4"
Performance Cup Sizes: 1-1/2", 2-3/4", 3-1/4"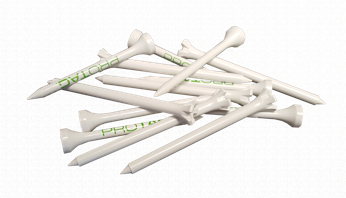 Perfect as always. My Event Guests are thrilled with the professionalism and class and it's my best vehicle for advertising our facility. It's priceless for our Outing Business.
-Steven Rofrano, Director of Golf
Lido Golf Club, Lido Beach, NY