Labeler Tips & Tricks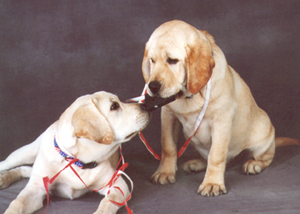 Here are some tried and true tricks to keep your P-Touch tapes from jamming….
1) Before inserting a tape – whether it's brand new or partially used – look at the side of the cassette and be sure the tape is under the hold-down bar and extends out to the end of the cassette. (See TC tape below.) If it doesn't, take your thumb and gently guide the tape to the edge.
2) Be sure to wind the ink ribbon hole a couple of turns with your finger in the direction of the arrow on the cassette. (See arrows below.) This takes up slack caused by shipping or partial use. Do this before you put in any tape – new or used.

3) Be sure when placing the cassette in the labeler, that none of the ink ribbon bunches up as you snap it in place. It has to go straight down into the machine. If it does bunch up, take it back out and repeat step 2.
4) Never pull on the tape! If you do, the tape will stick to the ink ribbon and get all stuck up. What a mess!